CupClub goes live!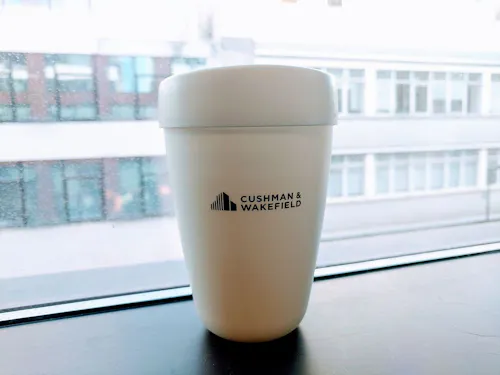 21 August 2018
Drumroll please… CupClub launches expansion into workplace and offices with innovation partner, Cushman & Wakefield.
We recently went live with our first innovation partner, Cushman & Wakefield, a leading global real estate services firm. Held at their European headquarters in London on Wednesday 1st August, we shared how CupClub will be working with C&W, which puts into action their commitment to moving away from single use plastics across their supply chain. We celebrated this milestone with a carb-filled breakfast and a brief presentation and Q&A, with innovative leaders from companies such as, Bio-bean, Liquidline and Paper Round.
"A key aim for myself and our team is to provide innovation in the products we use, service we provide and suppliers we partner with. CupClub achieves all of this with their exciting returnable cup system, enabling C&W to improve on sustainability, productivity and workplace experience across corporate offices. Launching this product in our EMEA HQ in London will enable us to work with Safia and the team closer, providing this innovative product to employees as well as advising clients about CupClub's reusable revolution" - Daniel Ringshaw, Lead Facilities Manager, Cushman & Wakefield.
Aside from misplacing the easels for our very large posters, as well as randomly exploding coffee machine mid presentation (what's going live without a hiccup, right?), this was an important step toward reaching our greater goal to replace millions of disposable cups with our returnable cups-as-a-service.
Designed with the circular economy in mind, our mission is to eliminate single use packaging and replace it with higher value products that are more interactive and fun; allowing people the convenience of takeaway without throwaway. Our aim is to transform the global drinks industry to help protect the planet from the harmful effects of single-use plastic waste pollution, with plans to expand into food packaging-as-a-service later down the line. We want to see returnable packaging as the norm!
We're excited to partner with Cushman & Wakefield, it's a pleasure to be on board with a company that has committed to #jointhereusablerevolution